Quote of the Month:
"If policymakers are to cover the true cost of human epidemics like obesity,
diabetes and cancer, and livestock epidemics like avian flu while also tackling
the twin challenges of climate change and antibiotic resistance, then a shift
from subsidization to taxation of the meat industry looks inevitable."

—Jeremy Coller, founder of FAIRR (investor group with $4 trillion in assets). Forbes.com, Dec. 2017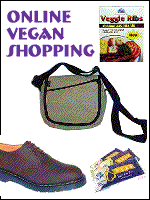 New Vegan Products:

Easter Chocolates! ~ NuGo Protein Cookies ~ Almond-Based Creamer ~ and plenty more
In the News: California May Ban Sale of Animal-Tested Cosmetics ~ US Food Companies Lag in Animal Welfare ~ Good Fats, Bad Fats: No to Animal Fats
Peter Singer's Equal Consideration For All: Singer is often credited as the father of the animal rights movement, but he doesn't actually presume that animals or humans have inherent rights.
Copyright © 2000-2018 The Vegetarian Site, All Rights Reserved.