Quote of the Month:

"Is it not a moral failing to choose foods that require animals to suffer?"
—anonymous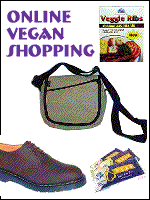 New Vegan Products:

Buffalo Dill Jerky ~ Gluten-Free Pizza Crust ~ VegReady Precooked Vegan Meals ~ Chickpea-Dill Protein Chips ~ & more!
In the News: 90% of Plant-Based Meat Sales Are to Meat-Eaters ~ Ratings for Popular Vegan Cheeses ~ Study: White Meat Not a Healthy Choice
Copyright © 2000-2019 The Vegetarian Site, All Rights Reserved.